HUGGS Baby Quilters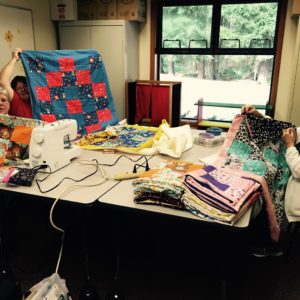 Cheryl Tornquist and her group of merry quilters meet at church every Wednsday morning at 8:30am to lovingly create baby quilts for charity.
Cheryl, Dorothy, Peg and Sue would love to have you join them.  You need not make a commitment, just come when you can.  Kits for the tops of the quilts (with simple sewing instructions) are available to sew at home as well.
We wish to thank these ladies for their dedication to this mission and a special thank you to Jean Burkheimer who has faithfully provided the fabric, and to Cheryl who makes sure it is all cut and ready to sew and then delivers the completed quilts to several organizations locally.