Vera Clowers, Celebration Friends Preschool Director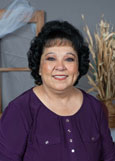 As leader and teacher of this 20 plus year ministry she has introduced thousands of three to five year old children to their first school experience. She helps to prepare them socially, academically and physically to succeed in the first grade and learn to love school. How good is that? She does this with kindness, devotion and encourages her staff to do the same. When she isn't in school she enjoys family time with her husband and children playing out doors and going to museums.
Email Vera to learn more about Celebration Friends Preschool, to register or to schedule a tour.