Tristin James, Preschool Teacher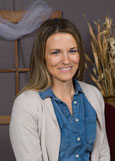 Miss Tristin has been on staff since September 2016 teaching two classes of our 3-4 year olds in Preschool!  Tristin is a current Celebration Friends mom and mother of two Alumni!  Tristin and her husband, Steve, are the creators of North Pole at the Fair.   Its a wonderful and fun Christmas Paradise for kids of all ages. 
Email Tristin to learn more about Celebration Friends Preschool, to register or to schedule a tour.