Cara Swenson, Music Director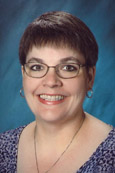 Cara has conducted and led our choirs and guest musicians to enrich our church worship with her musical vision for over fifteen years. She earned her Bachelor's of Music Education from Pacific Lutheran University, a Master's in Educational Technology from Walden University, and teaches middle school choir, general music and ukulele as well as serving as her school's web editor and Facebook administrator. She is a member of the Washington Music Educator's Association, the National Association for Music Educators and the American Choral Director's Association. She enjoys spending family time with her husband Erick and two sons, Tristan and Riley.
Email Cara today if your would like to learn more about choir and music at Celebration.